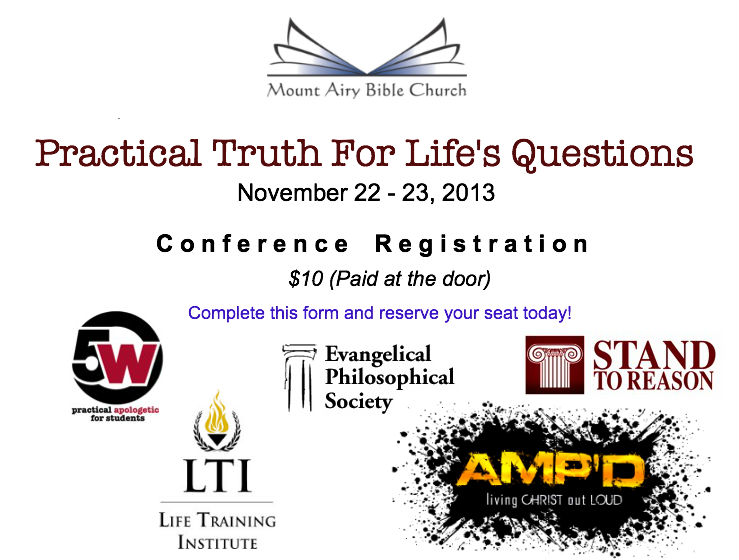 Mark your calendar for an upcoming area conference on November 22-23. This conference will feature cutting edge Christian thought leaders Brett Kunkle, Jim Wallace, Alan Shlemon, Doug Powell and Nathan Hansen. Come hear 5 engaging sessions that are geared to equip you with answers to some of life's toughest questions.
Cost: $10 (Yes, you read that correctly! That includes lunch friends!)
Friday evening (11/22)


5:30 Check-in/Registration

6:30 Welcome/Worship

7:00 Session 1: "Why I became a Christian": Understanding Truth (Brett Kunkle)

8:00 Break

8:20 Session 2: "Cold Case Christianity": Understanding the facts of Christianity (Jim Wallace)

9:20 Closing Comments

9:30 Dismiss
Saturday Morning/Afternoon
(11/23)


9:00 Welcome/Worship

9:30 Session 3: "Truth & Compassion": What you need to know about homosexuality. (Alan Shlemon)

10:30 Break

10:50 Session 4: "Jewish Zombie risen from the dead?": There's an app for that! (Doug Powell)

11:50 Lunch Break
(box lunch provided by Chic-fil-A)
1:00 Session 5: "How To Become an Apolojedi": Using Practical Apologetics (Nathan Hansen)

2:00 Closing Comments & Worship

2:15 Dismiss

* Conference sessions subject to change
Hope to see you there!
Courage and Godspeed,
Chad